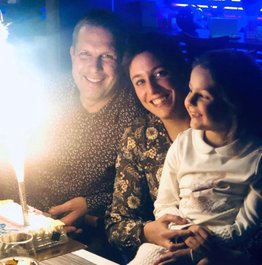 Wij zijn Arno en Noortje Froidmont – Raedschelders en samen hebben wij een dochter Elle-Louise.
We hebben ons leren kennen op de landbouwdagen in Alden Biesen in 2005. Het feit dat we beide enorme dierenliefhebbers zijn heeft ons bij elkaar gebracht. We zijn getrouwd in 2008, op 16/06/2016 is onze dochter Elle-Louise geboren.
Noortje is sinds haar jeugd altijd gek geweest van honden. Katten en paarden stonden echter ook in haar top 3 lievelingsdieren. Arno is bij zijn ouders op de boerderij groot gebracht met koeien, maar paarden zijn toch zijn absolute favoriete viervoeters.
De oprichting van onze kennel was een idee van Noortje, die graag een nestje wilde met haar allereerste Border Collie teefje 'Of Kaipo Home Indezz' (Dezz). Officieel werd de kennel opgericht in oktober 2010, toen FCI de kennelnaam 'Borders Make My Day' goedkeurde.
Voor meer info over ons … zie onze persoonlijke pagina's.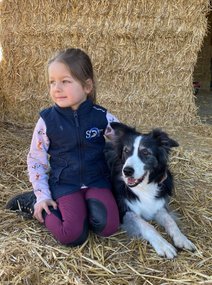 We are Arno and Noortje Froidmont - Raedschelders and together we have a little girl, Elle-Louise.
We met at the agriculture days in Alden Biesen in 2005.
The fact that we are both huge animal lovers brought us together. We are married in 2008, our daughter Elle-Louise was born on 16/06/2016.
Noortje has always loved dogs. Cats and horses are also in her top three of favorite animals.
Arno was brought up by his parents on the farm with cows, but horses are his absolute favorite four-legged friends.
The foundation of our kennel was an idea of Noortje, who wanted a litter with her first Border Collie bitch "Of Kaipo Home Indezz" (Dezz).
Officially, the kennel was founded in October 2010, when the FCI approved the kennel name 'Borders Make My Day'.
For more info about us ... see our personal pages.