Mijn naam is Arno Froidmont, ik ben in 1986 geboren en woon sindsdien in Millen, een dorpje in Riemst. Ik ben landbouwer van beroep, heb in 2007 het landbouwbedrijf van mijn ouders overgenomen en ik doe mijn werk met hart en ziel. Sinds mijn jeugd ben ik een gepassioneerd paardenliefhebber. Toen ik nog maar net reed deed ik vooral dressuurwedstrijden, na enkele jaren ben ik begonnen met jumping en dat doe ik nu nog steeds. Ik heb enkele goede springmerries (Quchien en Astrid) waar ik wedstrijden mee doe. Astrid is mijn grote trots omdat ik hier al heel wat mee heb bereikt.
Niet lang nadat we getrouwd waren kwam Noortje met het idee een Border Collie in huis te halen. Ik wist dat het een droom was van haar maar zag het eerst niet zo zitten, toch heb ik me laten overhalen! Ik ben uiteindelijk heel blij dat Noortje een sterke overredingskracht heeft want ik ben zeer gelukkig met ons Dezz. Ze is vanaf het begin mijn oogappel, mijn "Pluchke". Toen Noortje voorstelde om een 2de Border Collie in huis te halen had ze minder moeite nodig om me te overhalen. Tussen Dezz en Sim ging het vanaf dag 1 super. Noortje was helemaal verslaafd aan het trainen met haar honden, dus ik wist dat het niet bij 2 Borders zou blijven.
De rollen bij ons thuis zijn goed verdeeld. Noortje is degene die zich hoofdzakelijk met de honden bezig houdt : trainen, wedstrijden, honden uitlaten, ... . Ikzelf neem de verzorging van de paarden voor mijn rekening. Ik ben de enige die onze paarden berijd en ga er mee op wedstrijd.
Omdat we enkele goede sportmerries hebben fokken we ook met onze paarden. Af en toe wordt er op de boerderij een veulentje geboren, wat uiteraard een groot feest is.
Kortom, ik vind het heerlijk om de hele dag met dieren bezig te zijn en ervoor te zorgen. Mijn voorkeur gaat uit naar de paarden, omdat ik dit al jaren doe, maar de honden zou ik zeker ook niet meer kunnen missen.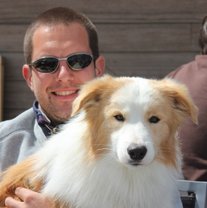 My name is Arno Froidmont, I was born in 1986 and live since then in Millen, a little village in Riemst. I am a farmer by profession, and in 2007 I took over the farm of my parents. I do my work with heart and soul. Since my childhood I am a passionate horse lover. When I just started horse riding I mostly did dressage competitions, after a few years I started jumping and I do this still. I have some good jumping mares (Quchien and Astrid) which I do competitions with. Astrid is my pride and joy because I've accomplished a lot with her.
Not long after we were were married Noortje came up with the idea to have a Border Collie in our home. I knew it was a dream of her, but did not agree with it at first. Yet, Noortje has convinced me! I am very happy that finally Noortje has a strong persuasion because I'm very happy with our Dezz. From the beginning she is my everything, my "Pluchke". When Noortje suggested to get a 2nd Border Collie in the house, she needed less arguments to persuade me. Dezz and Sim are best friends from the beginning. Noortje was totally hooked on training with her dogs, so I knew it would not keep up with 2 Border Collies.
The roles in our home are well distributed. Noortje is the one who is mainly concerned with the dogs: training, competitions, dogwalks , … . I take care of the horses, I am the only one who rides our horses and likes to go to jumpings.
Because we have some good sport mares we also breed with our horses. Occasionally, we have a new foal on the farm, which is obviously a big party.
In short, I love to be busy all day with animals but my preference is with the horses, because I'm doing this for years. But the dogs I certainly would not want to miss them for the world.